M.D.U
This Fall, Highland Clinic is proud to invite you to be a part of M.D.U, a health education program for area high school students interested in the field of medicine. This is a "first-ever" opportunity for Caddo and Bossier Parish Schools and upper level students, exclusively brought to you by Highland Clinic providers. The program started in the fall of 2018. Those students who possess the necessary requirements and have shown interest in the field of medicine can register to attend a 35-minute presentation and 15-minute Q&A conducted by a Highland Clinic physician at their school.
Highland Clinic hopes to build long-term relationships with area schools to provide students an exploratory opportunity to gain first-hand knowledge about a career in healthcare and in a variety of specialties in the healthcare industry.
Thank You to Our Participating Schools:
Captain Shreve High School & Caddo Magnet High School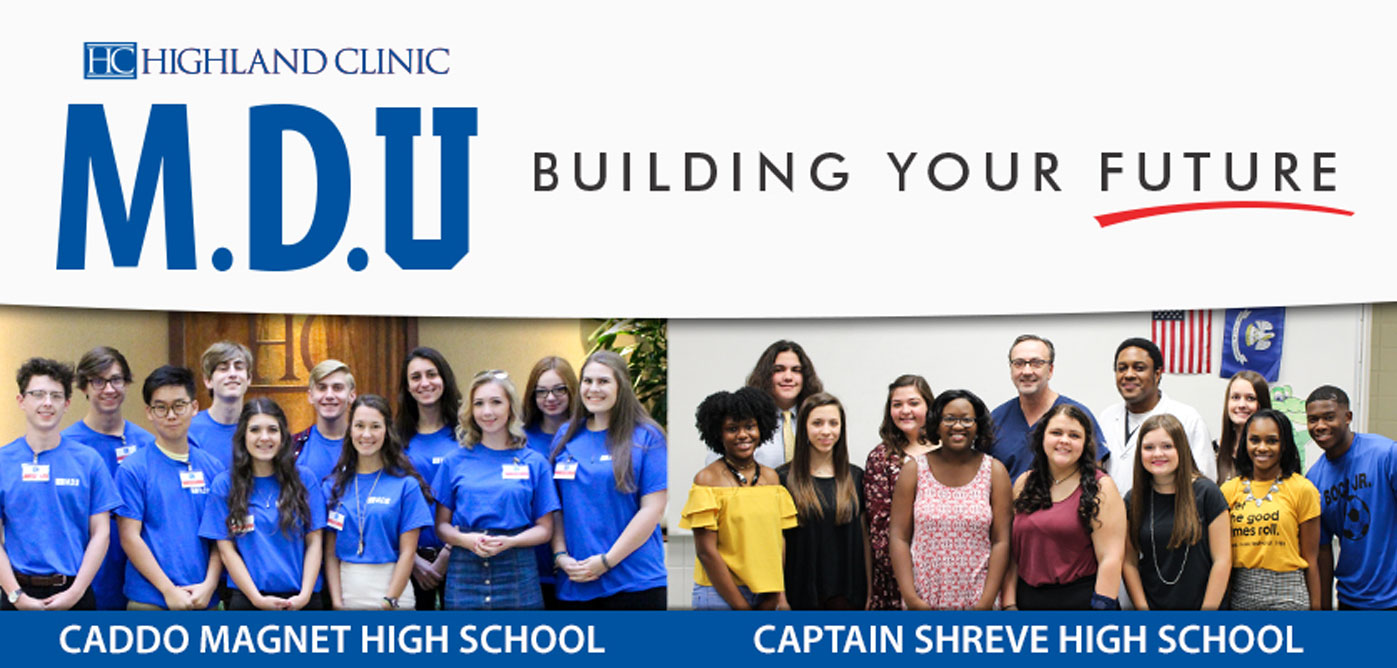 SCHOOL REQUIREMENTS:
Allow Student Registration (Printed leave behinds for the schools)
Allow for 50-minute Classroom Session with Registered Students; (1) 35-Minute Presentation on area of specialty and medical career development + (1) 15-Minute Q&A
Allow M.D.U Building Your Future T-shirts to be Distributed to Registered Students
Allow School Name/Logo and Student's Images to be Included in Press Coverage
Allow Excused Absence For Participating Students
STUDENT REQUIREMENTS:
Junior or Senior Classification
Enrolled in STEM, Magnet and/or Gifted Science Course Curriculum
GPA 3.0 or higher
Expressed Interest in the Field of Medicine
To express interest in the M.D.U program, please contact Highland Clinic Marketing & Business Development, who will meet with the designated school representative(s) to discuss further the implementation of the program.
For more information contact Marketing & Business Development
O: 318-795-4725 | E: dsmith@highlandclinic.com